Since 2013, "Metalroof" LTD has opened a new roof direction - slate roofs (installation by German technology). As for today we have been performed more than 5000 sq. m. slate roofs. Slate is a universal material that did not change attraction over the centuries and has been widely used not only as roofing material, but also as a facade decoration. It has a unique layered texture and stone luster creates a refined look that moves this kind of coverage to the elite.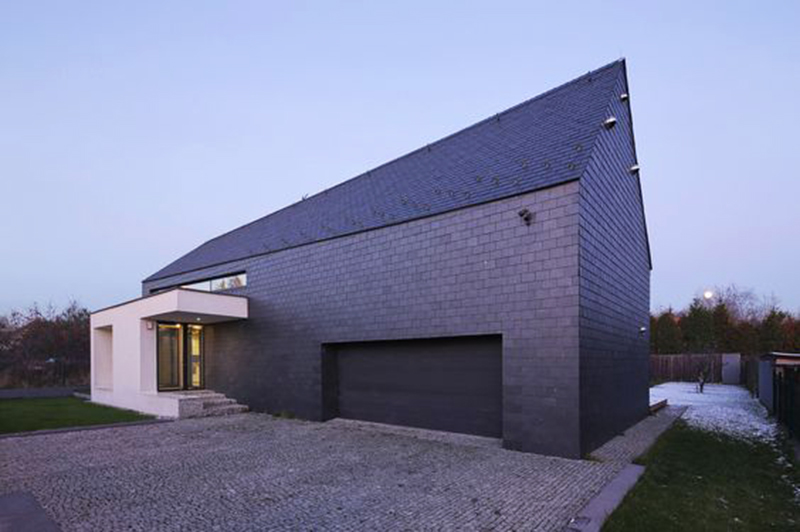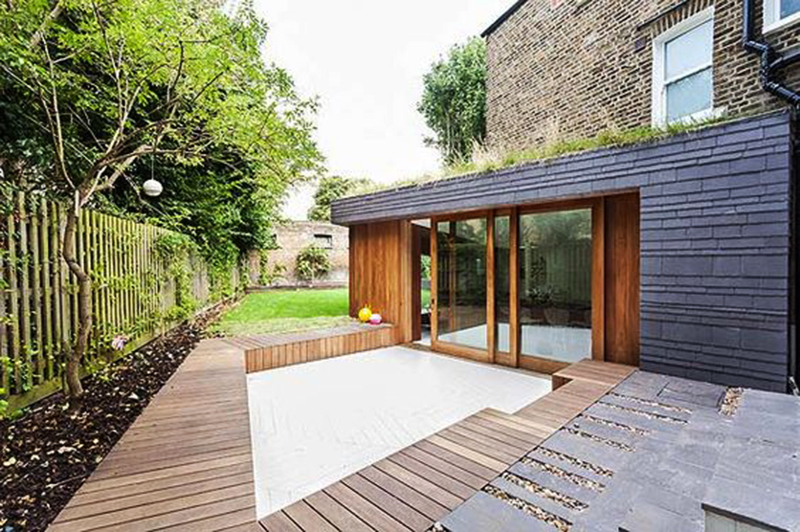 This material is an ideal since ancient times, when there was no large possibility to select material, and quite often people used material that was found nearby. It is possible to see by old buildings. For example, the valley of the Loire River that crossing almost whole France from the south-east to north-west because of the big quantity of the royal castles and palaces, people call "Valley of Castles". Exactly here all roofs were made from slate tile and each of them deserves attention, as the castle architecture involves complicated transitions, details, domes and cut-in parts. In time slate roof of architecture monuments did lose neither good view nor functional ability.
In addition important to say that the Louvre and Versailles, famous all over the world royal palaces, were covered by slate tile.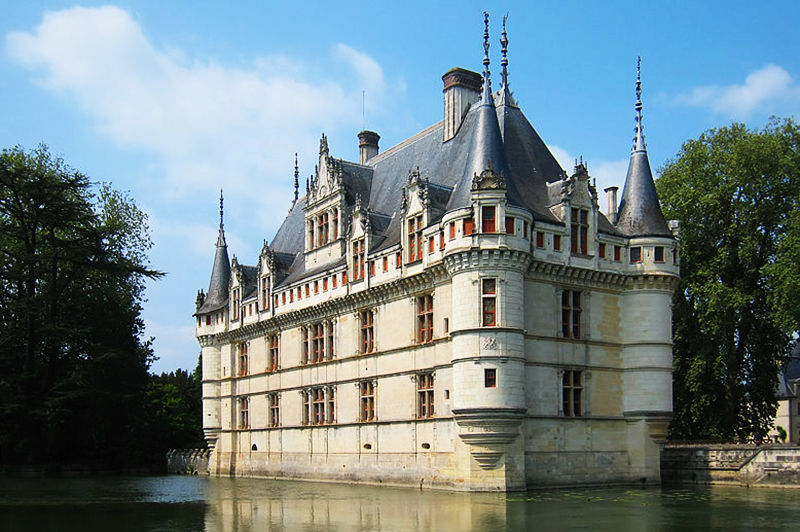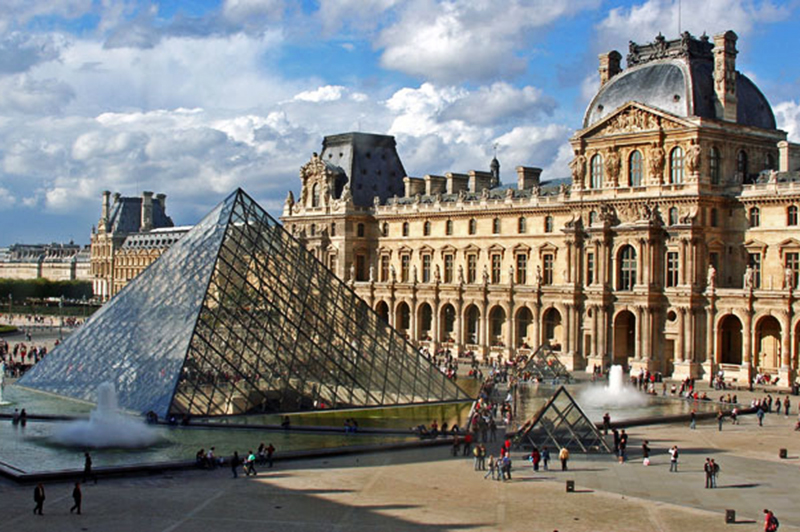 Every architect wants that his creation looks worthily and worthily means qualitatively. This material has a different variety of tile shapes that will satisfy needs of even the most demanding customer, and the roof or facade covered by slate, will significantly increase costs of the building. In our time it is also an important aspect as an environmental friendliness of material. Slate is a natural stone, which does not allow the use substances that harmful for human health and environment. Because of it, to live under such roof, safe and good for the general health. Slate has no problems with recycling because slate chippings and powder can be used to make soil properties better, and also as fillers for concrete.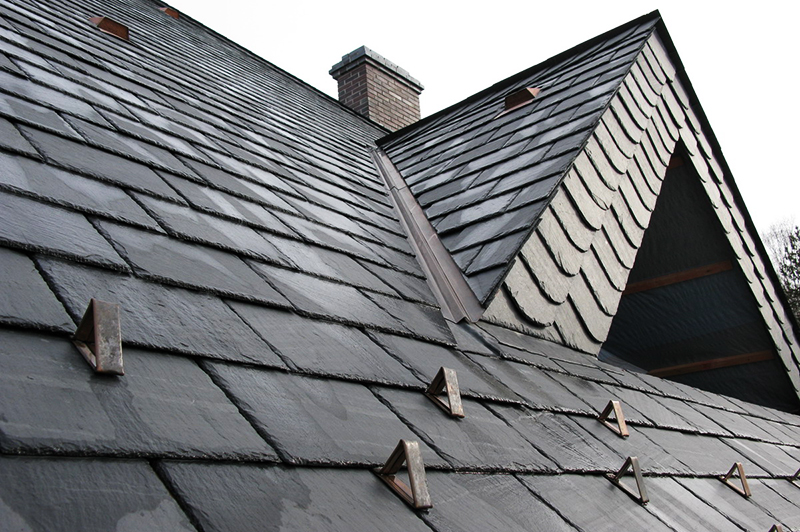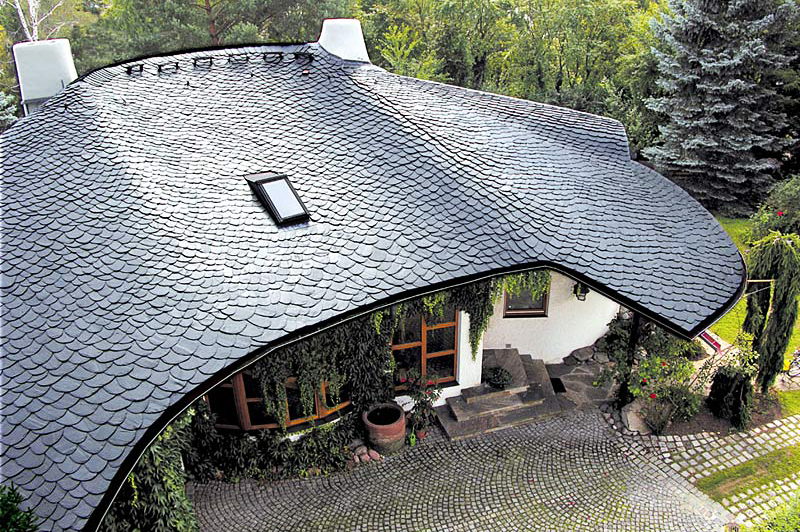 Slate is a material that known as "out of time". It is perfectly combined with modern materials such as concrete, glass, metal. It is used not only as decoration, but rather is a "raisin" of the building due to the individuality of every tile. Slate tile has noble and unusual colors, which add charm to the roof. A resistance to the temperature changes is remarkably effects to the lifetime that is 200-300 years. And the most important it almost does not need service. Modern technologies of extraction slate made this material quite competitive in cost with other roofing materials such as natural tile or copper.
To perform really complicated roofs with decorative ridges, turrets, transitions, cut-in windows used a combination of slate roofing with precious metals such as copper or titanium zinc.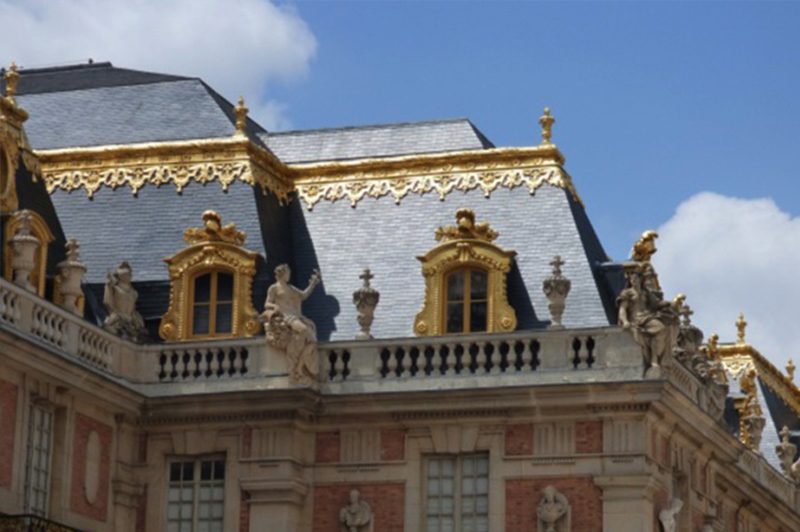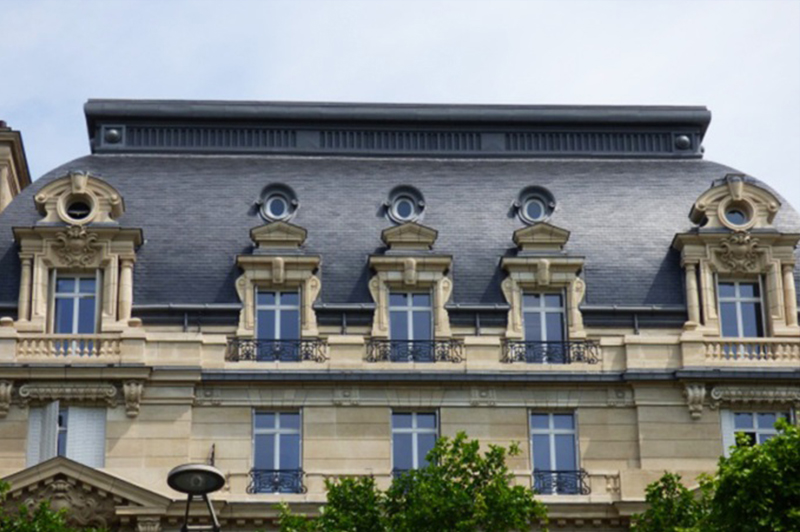 Cut-in windows, decorative ridges, eaves, transitions from up to down part of slate roof are possible to make by using titanium zinc or copper. The combination of slate and metal you can see on many slate roofs either classical or modern.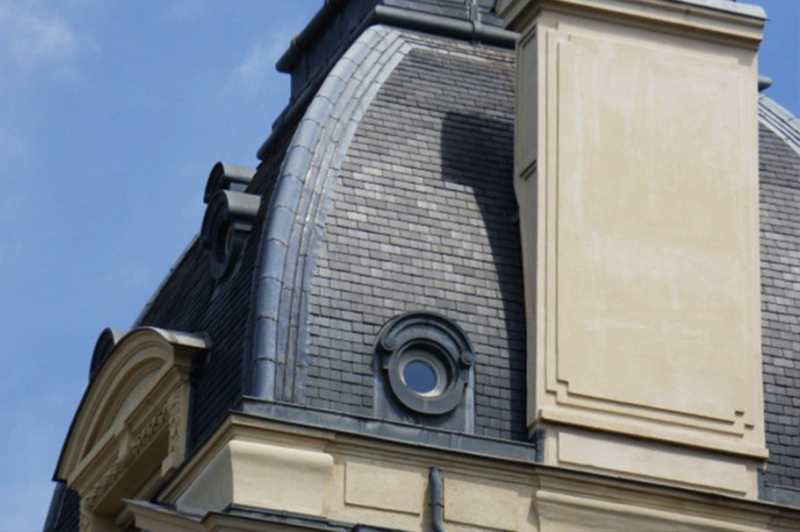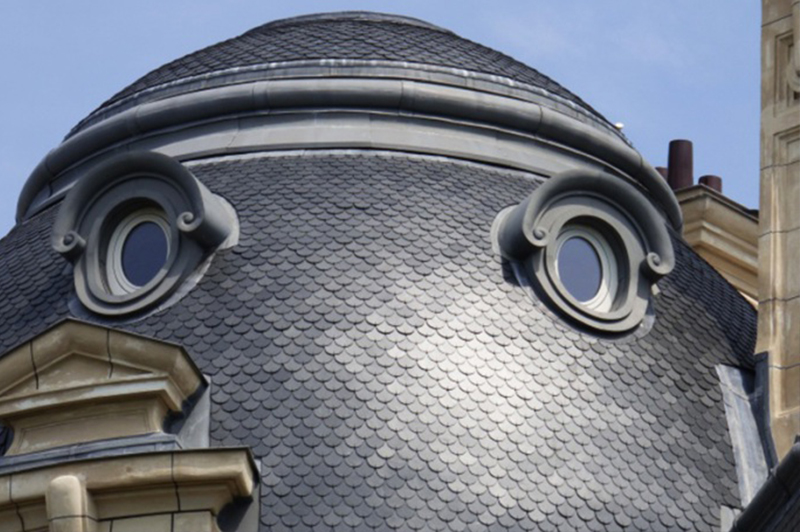 If you build house for you and for your descendants, you should be provident choosing materials with an eye to have it long time. But it is not enough just to choose material, you also need to find roofers, who are able to perform a roof properly and our company can provide such works. "Metalroof" company bought all original tools and equipment for slate roofs installation. All experts are certified and trained in the best school in Germany. We are direct slate suppliers from Germany and Spain; it has a positive effect to prices of materials - no need to pay middlemen. We provide a comprehensive guarantee for material and roof, you do not need to find "extreme" and spend nerves because in case of any complaint, we will eliminate the fault as soon as possible.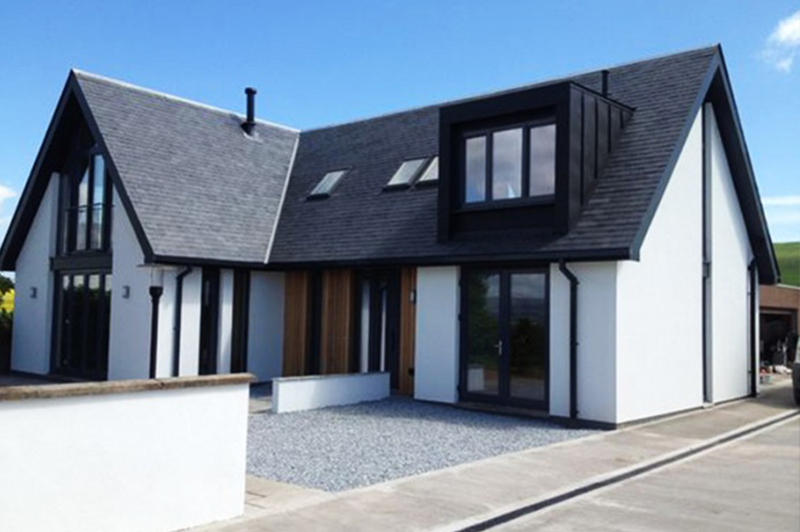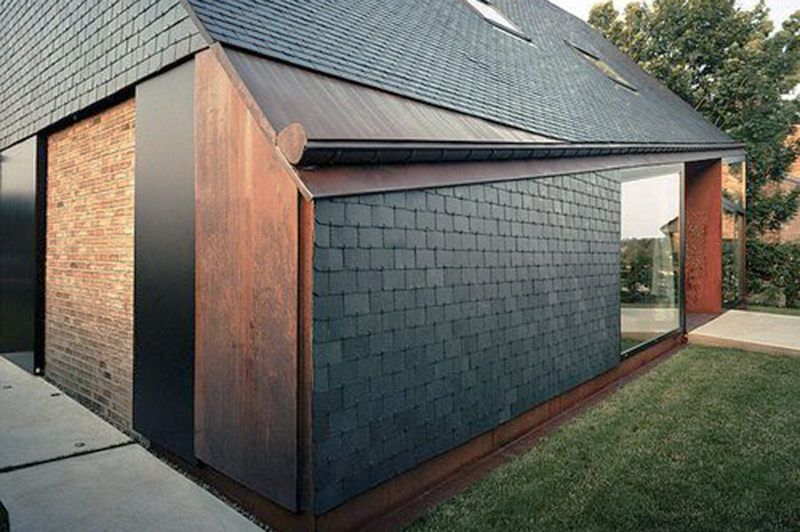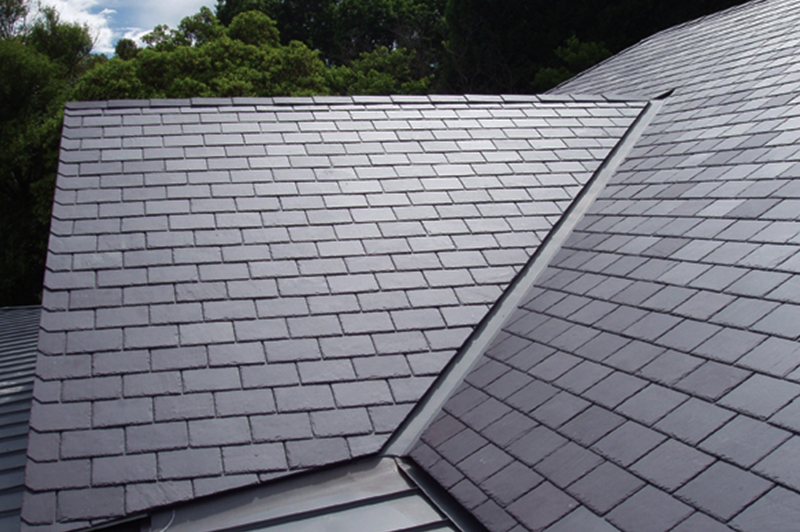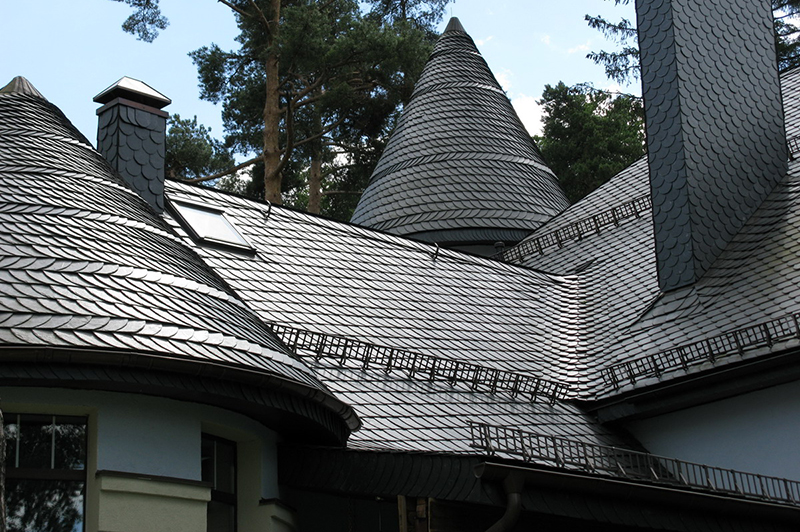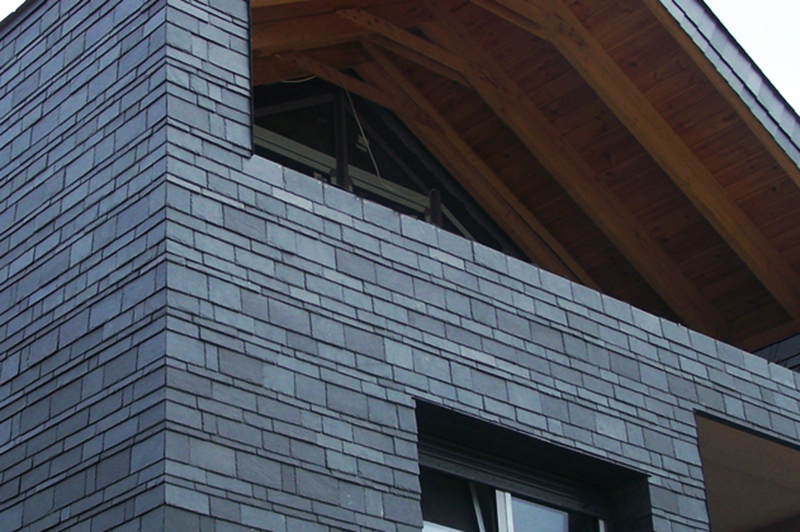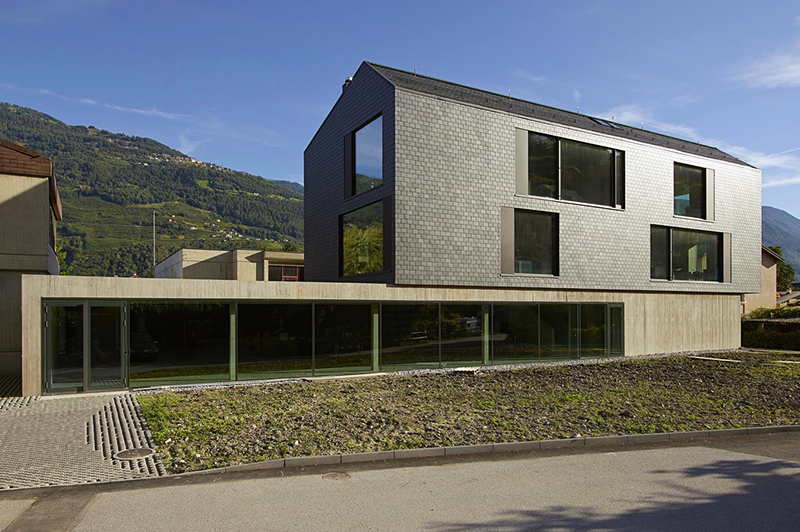 To verify that slate roof is correct choice, we propose to consider its characteristics:
Slate is the oldest natural building material (age of rocks more than 400 million years). Slates were one of the first that have been used in the construction.
Natural slate is absolutely environmentally friendly material! It is not radioactive and does not contain harmful impurities.
Slate is well tolerated to temperature changes. It is good in our climate zone. The service life of roofing slate is 400 years.
Slate does not burn up with time and does not change its color.
Slate roofing has excellent heat and sound insulation characteristics.
Roofing slate is an exclusive material, because every tile is produced manually.
Slate roof has a distinctive oily luster inherent only to this roofing material.