Standing seam roofing with double standing seam using solid sheets is the most reliable kind of roofing as for today.
Standing seam roofing is one of the most progressive kinds of metal roofing, which provides complete protection of roofing. Hidden under seam fastening system guarantees absence of roofing leakages and does not need through holes. There are no rubber sealing or glue joints, everything is hidden inside one or twice end-enfolded metal. Ends created by lock-seaming provide additional roofing stiffness and gives correct direction for water and snow along longitudinal line excluding lateral running-off or snow sliding.
Standing seam roofing is fabricated from galvanized sheet and rolled steel with both polymeric coating (pural, polyester) or without coating (galvanization), as well as roofing from base metals: copper, zinc titanium, aluminum. At present copper has the widest application in executing roofing out of base metals. Copper standing seam roofing is considered to be the most durable. Service life of copper roofing is more than 150 years.
There exist two main kinds of roofing which is called "standing seam" by convention. The first is roofing using panel connected between each other by longitudinal standing lock. The second is roofing with roofing tiles connected between each other by lateral and longitudinal flat seams.
Peculiarities of arranging "roofing cake" for standing seam roofin
There exist a number of variants for fabrication of "roofing cake" for standing seam roofing. It depends on the kind of roofing (with insulation or without), inclination, roofing shape (arched or straight), and customer's financial possibilities. "Cake" with spaced ventilating split and antifogging foil is considered as the most efficient and durable (as against, for example, metal tile roofing where ventilating split and antifogging foil are connected). This "cake" is used for the most widely-spread mansard insulation roofing and can be laid both with metal framework and without it.
200x50 mm beam substructure system serves as roofing base. Vapor barrier and raw rare lathing supporting heat insulation are installed under the beam. Heat insulation from 35 to 80 kg/m3 density (depending on angle of slope) is located in the body of framework. Wind barrier with 120 g/m2 density (for example, superdiffusional membrane Metalroof 120) and 50 mm air clearance which is gained by laying counter-lathing on rafters above wind barrier are placed above heat insulation. In this case wind barrier does not perform antifogging foil features (it is placed above) but protects heat insulation blowing-out by air passing through ventilation split.
Lathing or OSB is laid above counter-strip above which volume hydro barrier with polypropylene fibers is laid (for example, superdiffusional membrane Metalroof Extra) same as antifogging foil. As condensate is formed on the back side of steel sheet then the availability of split under it ensures condensate removal by ventilation. And only now the final standing seam covering is laid on antifogging foil.
Curved "roofing cake" is identical to that for the straight roofing. The only difference is that counter-strip is absent.
The role of ventilation split is performed by netted laid boards (cross pattern under 45-65 degrees angle depending on slope angle). Final covering is often executed with roofing tile though at curvature with radius up to 2-4 meters (depends on roofing material – steel, copper, and etc.), it is possible to use standing seam panels curved by special technology at bending machine.
During assembling it is advisable to take into account the following:
Recommended roof inclination while using standing seam technology is from 10 0. At lesser roof inclinations (from 7° to 10°) it is mandatory to have solid base as well as application of double-seam compacted with silicon sealant.
Standing seam roofing can be arranged either above lathing which is performed from board (commonly 100x25 mm) with a certain spacing (commonly 25 cm) or above solid base. Failure to observe the spacing required can lead to steel sheets deflection and this will lead to weakness and further to deformation of seams between metal sheets. Often this is the reason of leakage and metal corrosion.
It is recommended to use sheets having the length not more than 10 m. At longer sheets it is necessary to use floating clip.
If you purchase metal in coils take into consideration the thickness of sheets. It should be even. It is obligatory to require material certificate specifying technical data from the vendor.
If you assemble zinc-titanium roofing watch out for builders who must handle the sheets with care: it is not allowed to throw and scratch the material; while making marking it is required to use markers or pencils. Furrows contribute to corrosion emergence as early as prior to patina-forming process. While working with zinc-titanium it is necessary to have special roofing tools, marking appliances, hammers, set of bending pinchers, straight and profile scissors.
If roofing material is laid correctly and seams are hermetically joined then roofing will serve you for many years.
Main advantages of standing seam roofing are as follows:
application of double-standing seam and roll-up device guarantee absence of leakage;
there is no need to strengthen constructions as roofing covering has low weight;
the probability of leakage due to damages is expelled as there are no joints outside;
it has perfect corrosion-proof features;
long-term service is extended thanks to application of base metal sheets and galvanized steel with polymeric coating;
the possibility of using lock seam for building roofs which have small angle of inclination because absence of leakages is guaranteed;
small quantity of metal waste;
the cost of using fitting for standing seam system is less than more expensive fittings and speed up assembling works.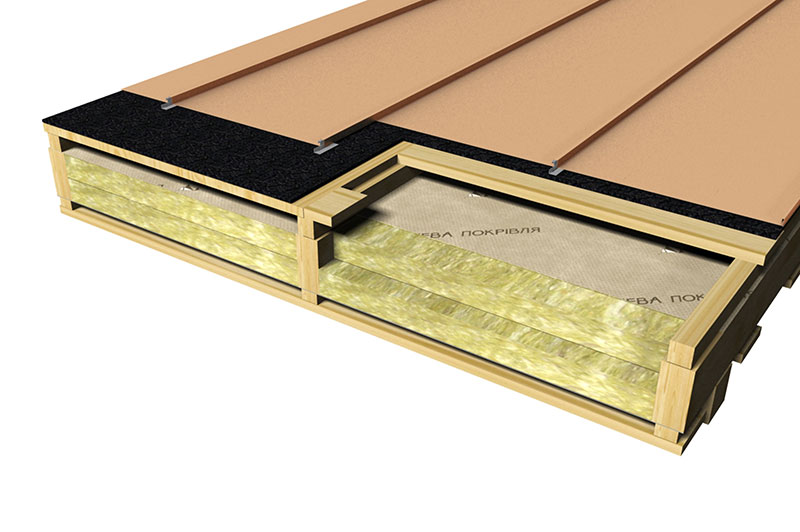 Arrangement of standing seam roofing straight slopes
Raw rare lathing
50x30 mm counter lathing
Vapor barrier foil
Substructure, 200x50 mm beam
Heat insulation, basaltic wool
Supediffusional membrane
50х50 mm counter lathing
100х25 mm lathing
10 mm ply wood or OSB plate
8 mm supediffusional membrane Metalroof Extra
Standing seam roofing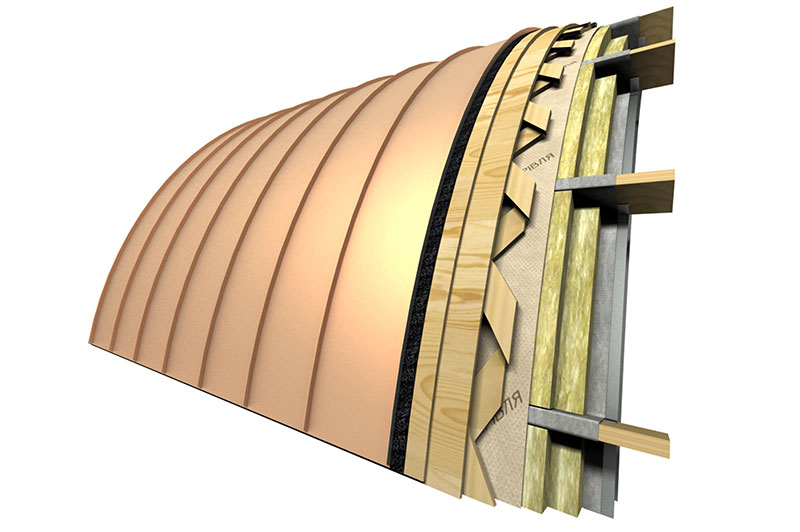 Arrangement of standing seam roofing curved slopes
Metal framework
Substructure, 200х50 mm beam
Vapor barrier foil
Heat insulation, basaltic wool
Superdiffusional membrane
2-layer 45 degrees 100х25 mm lathing
10 mm ply wood or OSB slab in 2 layers
8 mm superdiffusional membrane Metalroof Extra
Standing seam roofing